CloudVideo Surveillance Overview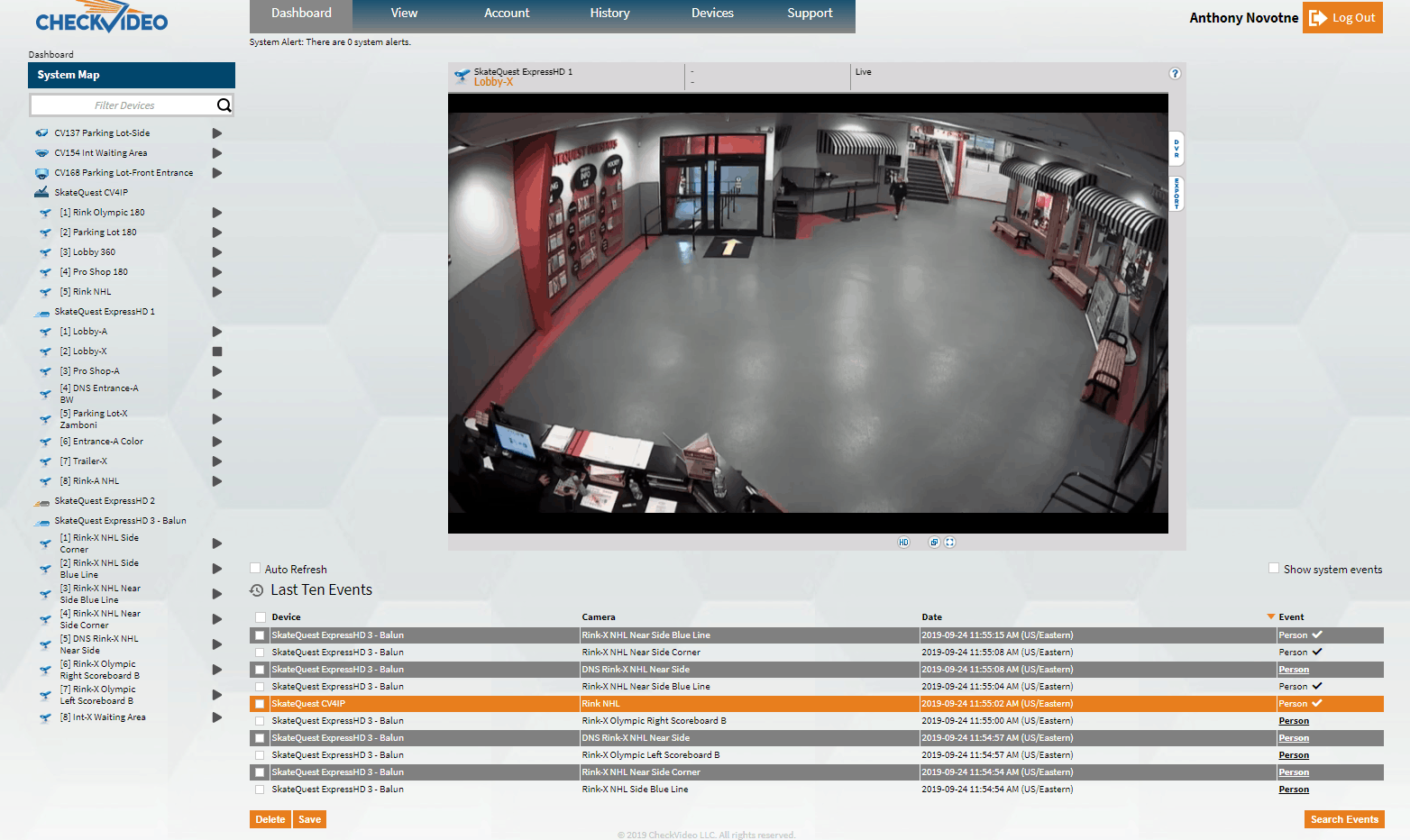 CheckVideo Cloud VMS is a cloud-based security camera system and a suite of software services that provides video surveillance as a service (VSaaS). CheckVideo device monitoring by a central station is used to send real-time alerts to smartphones and emails for viewing of live, recorded and event video online.
Traditional surveillance has required on-site servers and software which is hard to maintain, expensive, requires IT resources, and are rarely updated.
Today, video surveillance services have been taking advantage of moving to the cloud because the cloud offers multiple benefits which reduces your on-site footprint, complexity, and cost.
CheckVideo Cloud VMS provides the servers and software in the cloud and we keep it running.  It is more reliable, with 99.5% uptime guarantee, automatically protected against hackers and cyber threats, and all updates and enhancements with new software versions are included.
---
CheckVideo Managed Service is a hosted software service with:
Centralized video management functionality

Web based integration
Cameras and recorders across multiple customer locations
Secure backup to protect your video from tampering and failures
Powerful video search engine
All it needs are CheckVideo smart cloud cameras.
---
Reliable protection has never been this simple.
CheckVideo's revolutionary Cloud VMS enables centralized configuration, viewing and monitoring of video feeds across tens or hundreds of locations while reducing infrastructure costs. Every video camera enrolled into the service benefits from remote live, playback and export without the need to add servers or install software. Combining the best of on-premise recording and off-site backup, your video evidence is safe.
An industry-first search engine saves hours of time on investigations, and built-in video analytics notify you about activities of interest as they occur, not after the fact. As a managed system, updates are included and automatically applied, and the health of the system is monitored to ensure that your property stays secure.
---
Benefits
Automatic Software Integration – Seamlessly integrates with leading central station automation software, minimizing additional operator training.
Unified Management Interface – Provides single-point management of all appliances, with automatic time synchronization across customer locations.
Remote Configuration – Delivers point-and-click event setup via a web browser.
IP Security – Aggregates, authenticates and encrypts data from video cameras, keeping hackers out.
Software as a Service – Hosted software for system configuration and management that easily scales with business growth, eliminating the need for capital investment in additional local servers.
Video Dashboard – Enables viewing of video alarm clips, streaming live and recorded video from all cameras.
Configuration Backup – Stores configuration settings on the CheckVideo appliance and the CheckVideo servers.
Automated Software Updates – Sends software updates via the web to the CheckVideo appliance.
---
Literature
CheckVideo Managed Service (CVMS) datasheet
---
Support
---
Subscription Tiers
Cloud VMS Profesional

14 Days
Cloud VMS Enterprise

31 Days

Add-on option 2 months-2 years