The Safest and Most Dangerous College Campuses in America
When you send your child off to college, there are a host of concerns that go with them. Tuition costs, homesickness, and mental health typically top the list for the students, safety is the main concern for parents. Going from a situation where your child's activities are monitored at least minimally to having no idea whether or not they came home the night before is a frightening concept.
Of course, institutions of higher education make student safety a priority through a number of measures, but there are bound to be situations where crimes are committed. Our team decided to examine the actual crime rates on college campuses to see where the most crimes tend to be committed. Using data from the National Center for Education Statistics, we analyzed college crime rates for all of the campuses in the country with at least 1000 students enrolled and living on campus. Our findings are compiled below.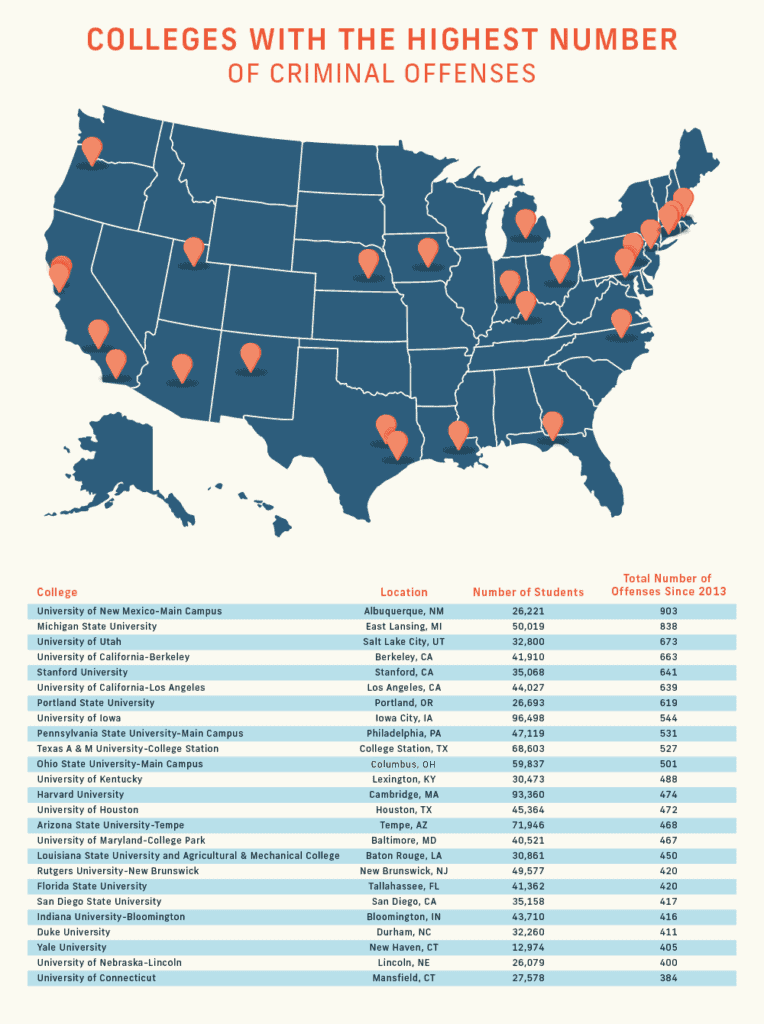 Overall, the university with the most criminal offenses was the University of New Mexico, making it the most dangerous college campus in America according to criminal offenses taking place on campus. In fact, the University of New Mexico was the only college to break 900 criminal offenses over the past five years. In second and third place respectively were Michigan State University and the University of Utah, both of which had a high number of criminal offenses over the past 5 years.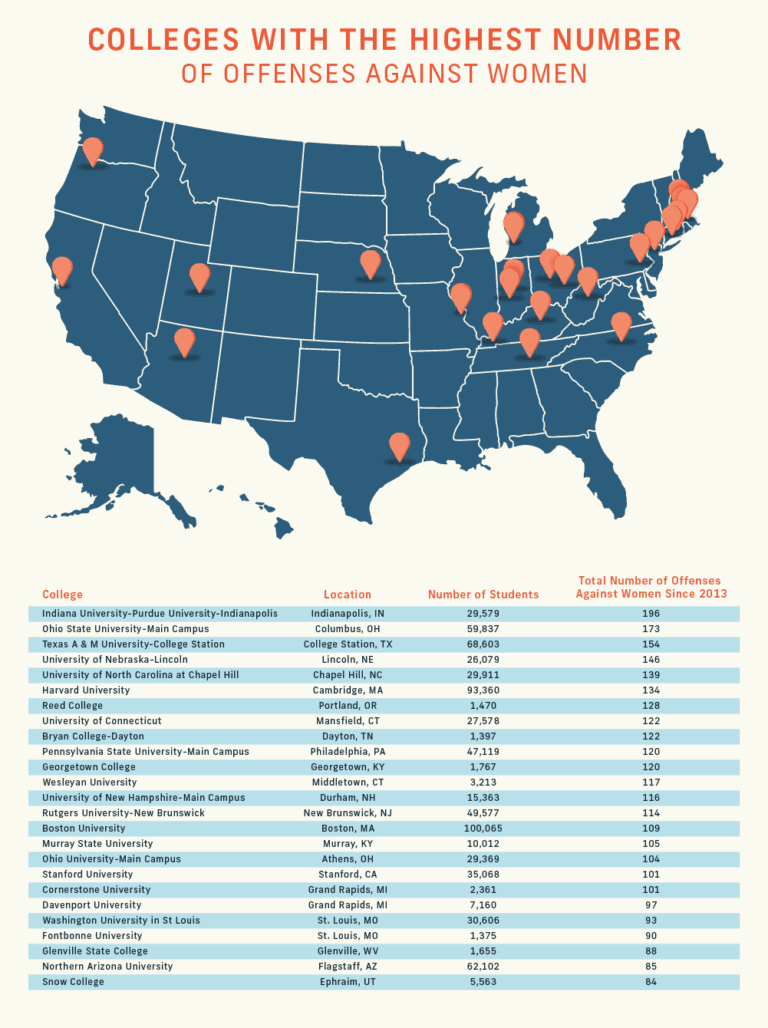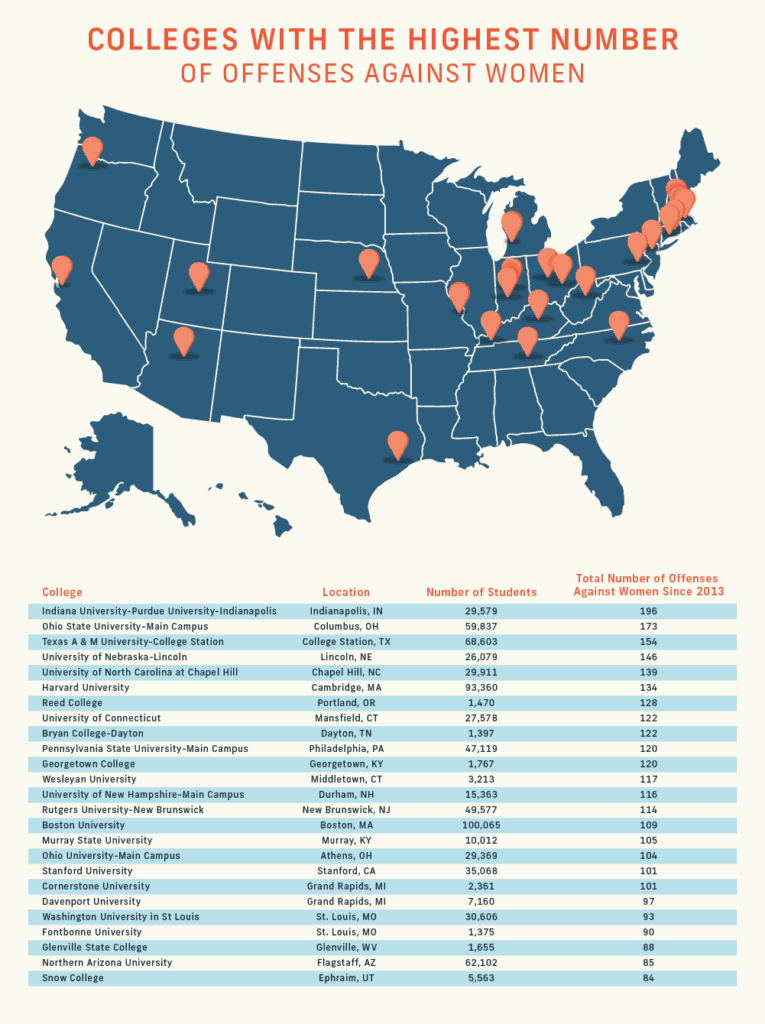 Violence against women has become an issue that invokes interest throughout the U.S. Accordingly, colleges in America have been taking steps to increase campus security and reduce incidents of violence in student housing. Indiana University-Purdue University-Indianapolis ranks as the most dangerous college campus in the US for women according to the number of reported offenses against women over the past five years. They are followed by Ohio State University and Texas A&M University, but the margin between first and second place is huge.
According to our research, Ivy League universities are far from immune to crimes committed against women. In fact, Harvard University and Stanford University made the top 25 for colleges with the highest occurrences of violence against women.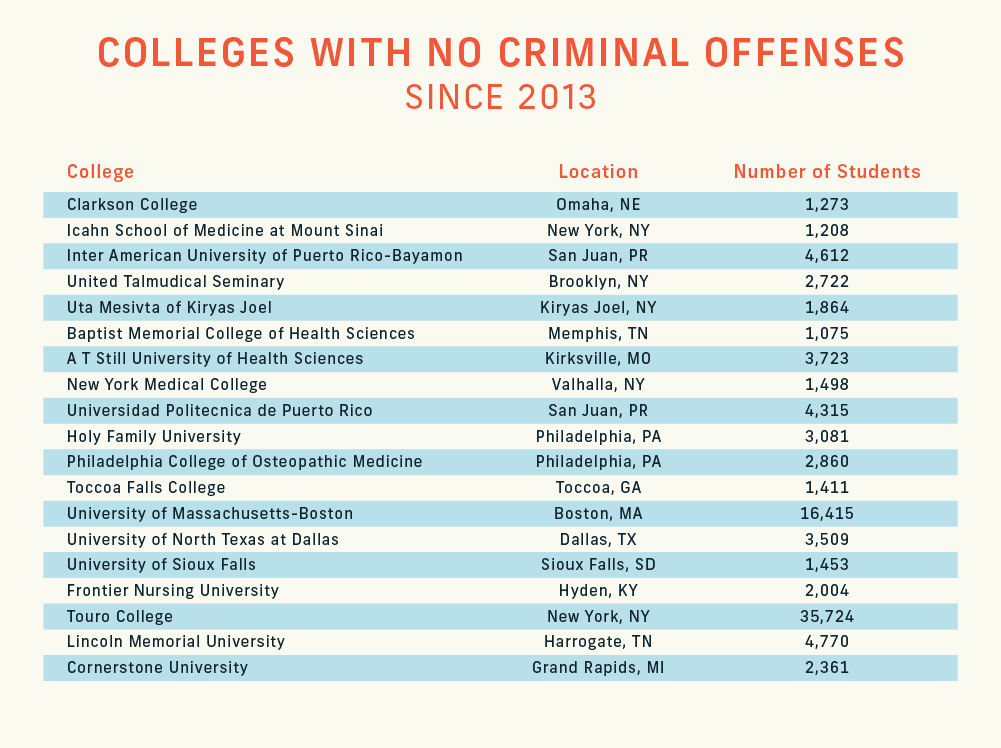 Of course, it's not all bad news. There are 19 Schools in the United States that have had no Criminal Offenses in the past 5 years. Most notable on this list are the University of Massachusetts-Boston and Touro College, both of which have substantial student bodies.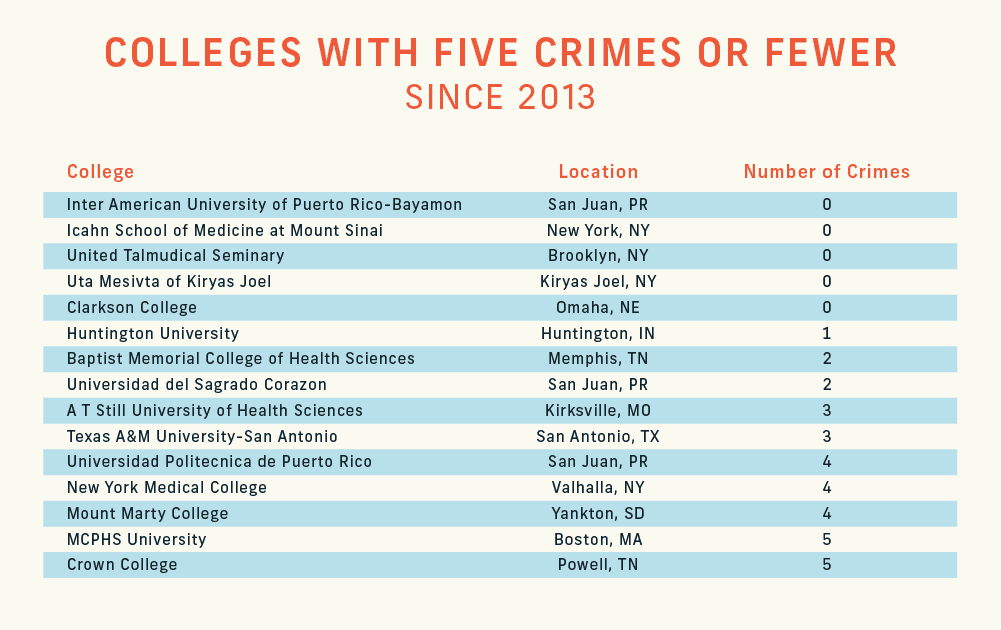 While 19 schools have no criminal offenses since 2013, criminal offenses refer to felonies. There are plenty of other crimes that students might commit that aren't felonies but still qualify as a crime. Only 15 schools have had 5 crimes or fewer on their campuses since 2013, and only 5 schools have had 0 crimes since 2013. This list comprises what could arguably be the safest campuses in America.
If you're wondering how your school stacks up for crime on campuses, you can check it out in the table below:
Of course, crime statistics fluctuate just like any other data point. Schools are constantly taking steps to create a safe environment for their students and improve campus security. If you're wondering how your school's crime rate has grown or shrunk since 2013, check out this table:
Campus safety is of the utmost importance to colleges and universities across the U.S. In the current climate, new solutions are necessary to make sure that in the event of a crisis or dangerous situation, students and faculty are protected. Our team has the resources to create a safe and secure environment for your campus. Contact us here to find out more about how to keep your students and faculty safe.
Update: Since publishing this study Indiana University – Purdue University Indianapolis has reached out with updated crime numbers based on a more accurate assessment of the geographic area included in their campus than the international databases used for this study.