Lawn and Garden Center
The owner of a lawn and garden center selected CheckVideo to keep an eye on his business after hours. The system paid off quickly. One day, in the early morning hours, the owner received an alert on his smartphone showing an intruder on his property. A series of alerts from different cameras showed the intruder walking through the property and looking at John Deere and Toro equipment. The owner contacted the police, who arrived on the scene and apprehended the suspect. They learned that the suspect had been waiting for a friend to help him steal $10,000 worth of equipment.
---
Case study, April 2016: Lindsay Automotive Group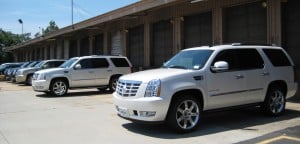 The story of Lindsay Cadillac, a large auto dealership in the Washington, DC area shows how the company's significant investment in outdoor assets was (and still is) being effectively protected from theft and vandalism by a CheckVideo intelligent video solution.
Problem: Lindsay Automotive Group purchased a new lot for storing new premium SUVs . They decided not to begin storing cars until a video system was installed. Initially, Lindsay installed cameras with video motion detection (VMD), but the system sent alerts on ALL motion, making it virtually unusable due to countless false alarms.
Solution: After learning about the ability of CheckVideo to trigger on REAL events instead of random motion, Lindsay trialed CheckVideo. In one month, the VMD  system produced more than 1400 false alarms. In the same month, CheckVideo alerted on 200 events with ZERO false alarms. The difference represented savings of more than $7,000 in monthly monitoring fees for Lindsay.
When you have the

CheckVideo

solution, you feel a lot more comfortable that you'll be able to respond — in real time — as soon as something happens…"

– Paul Moline
Chief Information Officer
Lindsay Automotive Group