Analytics-driven video security solutions
FALLS CHURCH, Va. and LAS VEGAS, N.V., April 10, 2015 /PRNewswire/ — CheckVideo, the Managed Video Security Leader, today announced the immediate availability of the HD Analytics Gateway™ (model CV4IP) to security dealers, video system integrators and end users. The company also announced the availability of the updated and refreshed CheckVideo CloudVMS™, the comprehensive suite of managed software services that are the video management system for all CheckVideo solutions, which features secure, cost-effective HD cloud video backup.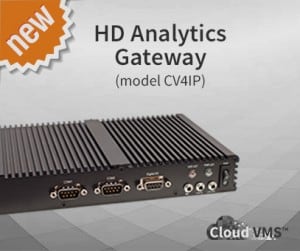 The CheckVideo CloudVMS™ is currently providing full management of live customer deployments from 1 to 500 cameras, and last month alone, processed, delivered and securely stored more than 22 million alert events.
Combining the best of video analytics, on-site recording and display functionality with Cloud video backup in a compact, low-power form factor, the HD Analytics Gateway will enable advanced detection for up to 16 IP cameras. This will greatly simplify large multi-site video deployments without significant server, software or bandwidth provisioning and without the additional expense of having to purchase analytics software licenses.
"This is a quantum leap forward in supplying the best of what the security community has requested for today's intelligent video deployments," said Nik Gagvani, president of CheckVideo. "For a very reasonable cost, the HD Analytics Gateway provides advanced video analytics proven over 15 years in a compact form factor. And with CloudVMS™ on the back end, deployments are simpler, with no software to install anywhere, anytime."
CheckVideo will be presenting its comprehensive video security solutions, including the HD Analytics Gateway and CloudVMS™ at ISC West, 15 to 17 April, at the Sands Expo Center, Las Vegas, NV, USA. Please visit our booth number 32051 and take a look at our solutions.