The Most Popular States for Doorbell Cameras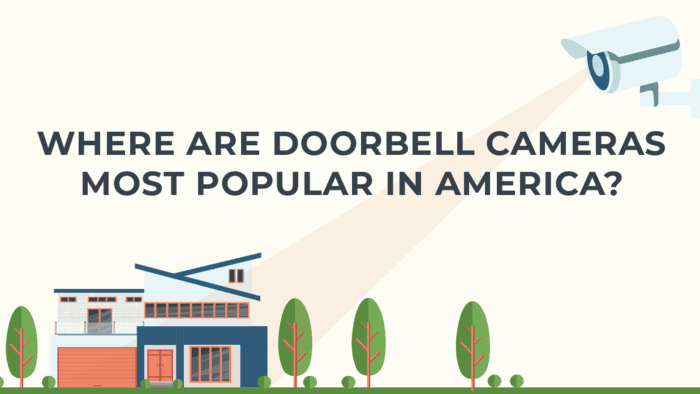 The recent integration of technology into every facet of our lives has reshaped the way we look at home security. No longer are we at the mercy of guard dogs and keypad-based home alarm systems to guard our homes while we're away at the office or out with our friends, but now we can see live video sent straight to our phones, thanks to a recent invention: the doorbell camera.

Doorbell cameras make a lot of sense, since almost every home visitor can be expected to come to the front door and face the doorbell, and users have taken to them quickly. Recent improvements in doorbell camera technology have also contributed to a historic rise in popularity over the last few years.

At CheckVideo, we are always interested in security and how our customers keep safe, so we wanted to know a little more about who exactly is using them, and what their thoughts are. So, we decided to conduct a survey across the United States, in order to determine where doorbell cameras are most popular. Check out our results below!

Methodology
In December 2019, we surveyed over 5,000 (at least 100 from every state) people on the following question to determine where doorbell cameras are the most popular.
Do you own a doorbell camera?
Yes
No, and I wouldn't buy one
No, but I would buy one
Of the larger survey pool, we surveyed 600 individuals who responded "yes" in order to gain insights on the motivations and preferences of doorbell camera owners.
The Most Popular States for Doorbell Cameras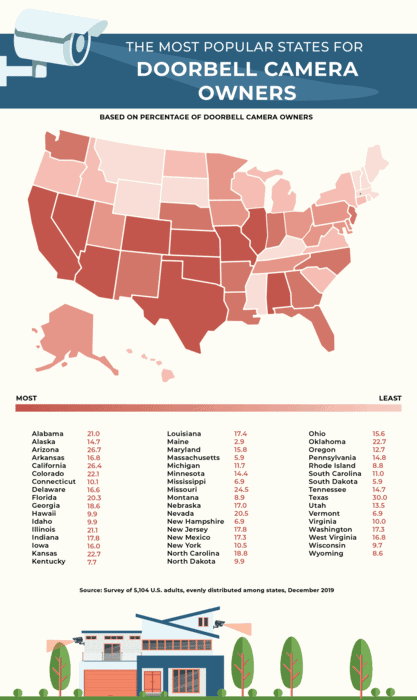 The popular phrase "don't mess with Texas" is now especially relevant for package thieves and potential burglars. Residents of the lone star state are the most likely people in the country to own a doorbell camera with an even 30 percent of the population listed as having one. The rise of home security technology is also blowing up in Arizona and California, where more than one-in-four residents have installed these cameras.
On the flip side, residents in Maine are either carefree or behind the curve when it comes to technology, where less than three percent of the population are recording the activities around their homes.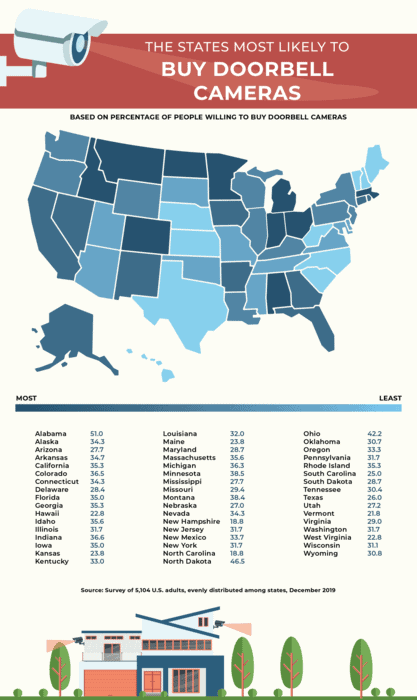 While Texas is the nation's leader in terms of people who currently own doorbell cameras, they seem to be losing interest in the flashy new technology. Texas ranks towards the bottom of residents who are likely to purchase one in the future, while Alabama and North Dakota come in as number one and two respectively. Less than ten percent of North Dakota residents currently own a doorbell cam, but almost 50 percent of them expressed a likelihood to purchase one in the future.
New Englanders once again prove to be the least suspicious of their mailmen and neighbors, ranking towards the very bottom in their intentions to purchase doorbell cameras. Maybe it's just too cold for those up there?
A Deep Dive into Why People Buy Doorbell Cameras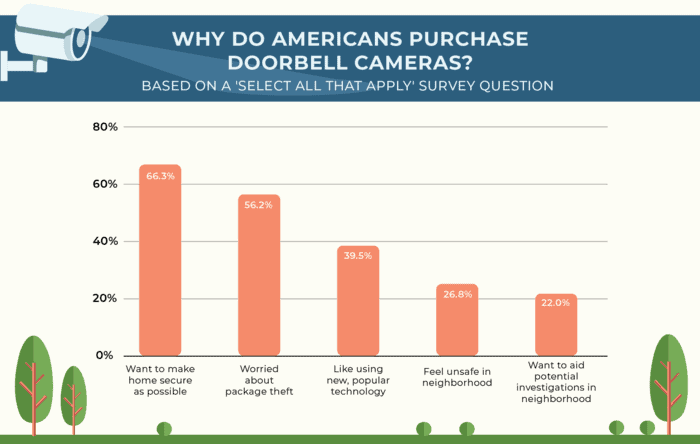 Home security is the top concern that homeowners have in mind when purchasing doorbell cameras, but the rise of online shopping has also given Americans a new fear: package theft. According to MarketWatch, just under 25 percent of adults in the US have had a package stolen from their residence. To prevent these new-age thieves from swiping their most recent Amazon finds, homeowners are using their doorbell cameras to keep an eye on their precious cargo.
Just under 40 percent of respondents cited a love for new technology as their motivation for installing doorbell cameras, while less than 27 percent mentioned feeling unsafe in their neighborhoods.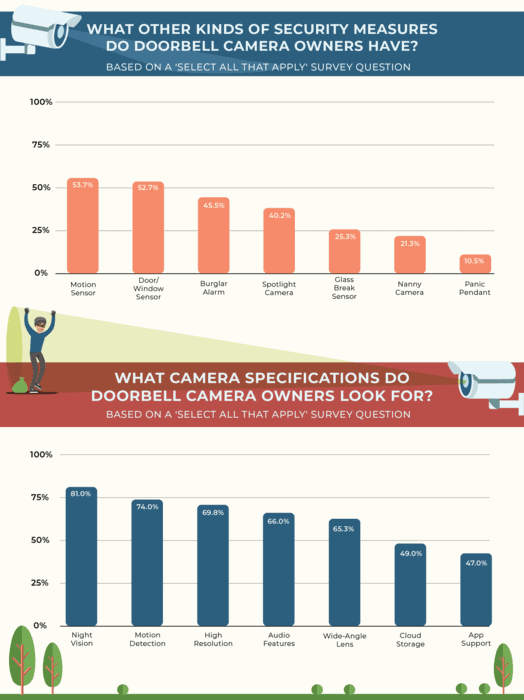 People looking to secure their homes have plenty of options, but which of them are the most important? When choosing from seven options, motions sensors were the common home security options, edging out door and window sensors. Burglar alarms and spotlight cameras were also popular options, with over 40 percent saying they had them in their homes. The least popular were panic pendants, with nanny cameras ranking second least popular. At least for now, you can get away with giving the kids a little extra screen time without mom and dad knowing.
While doorbell cameras are just one part of many homeowners' security options, they are not all made equal. Out of the options provided, night vision had the highest demand. Motion detection and high-resolution video were close behind, with app support being lowest on the list of must-haves. It's clear that these security-conscious individuals are looking for the ability to record video day or night and to tell the difference between a pranking neighbor and a potential burglar.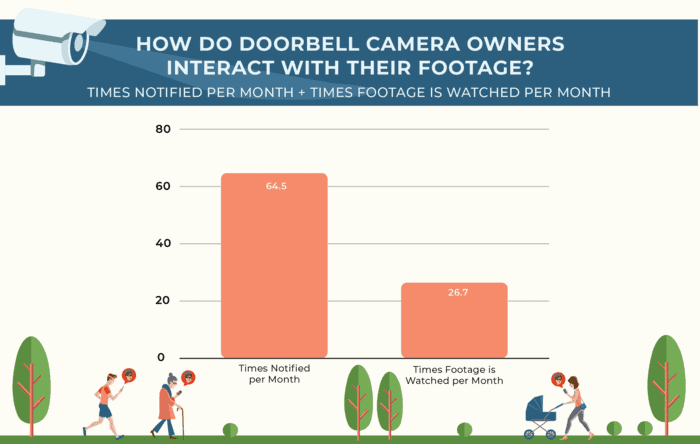 For those who opted for doorbells with app support, they don't seem to bother too often with notifications. On average, respondents were notified just over twice a day on average but didn't make it to watching the footage for even one-half of their notifications. Perhaps users need to remain more engaged with their doorbell cameras so that a burglar's chances of swiping your valuable packages without getting caught don't seem too likely.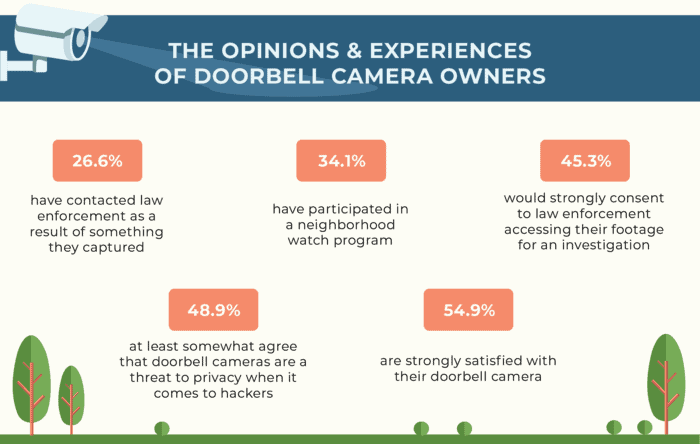 Not only do doorbell cameras notify owners when they detect a disturbance, but they can also store that video to be watched later. That video footage is being used in a number of ways, with over 25 percent of respondents saying they have contacted law enforcement over something they saw, and over 45 percent saying they would strongly consent to law enforcement accessing that footage for an investigation. This means that this footage will likely be reviewed and used to prosecute criminals for any unlawful activity they capture.
However, almost 50 percent of respondents believe doorbell cameras come with a threat to their owners as well. With the possibility of hackers gaining access to their footage, these trusty security devices can pose a potential threat to their privacy. After all, criminals aren't the only ones caught on camera at your front door.
Wrap Up
Your home is a place that you want to be able to rest, relax, enjoy the company of close friends, but most of all to feel safe. With advancements in technology, and therefore home security, there is an increasing number of options you can take to make sure you never have any unwanted guests–outside of your friends' dinner party plus-ones at least.

Doorbell cameras are one of these new additions, and most homeowners note being "very satisfied" with their products. They seem to be a worthwhile investment, and although they may drastically increase the notifications you get each day, there is no price tag for peace of mind. If you're looking to protect your business, take a look at our product offerings at CheckVideo for the same quality of service and results.